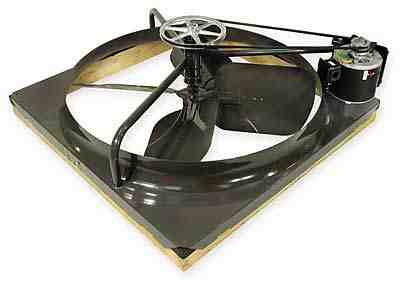 Why Dayton is a Better Whole House Fan

Jet Fan installs and sells Dayton whole house fans as top of the line commercial quality fans. Heavy (18 gauge) steel frame consisting of a venturi and heavy formed steel supports for motor mounting and galvanized finish. Heavy gauge steel fan blade with four wings and galvanized finish. The blades have a deep pitch so that even on a slow speed when the 36-inch fan is using less power and making minimal noise it is still able to move 5200c.f.m. (10,600c.f.m on high speed) @ 0.10 static pressure. This represents the best of all worlds, low noise and low power (648 watts) while you enjoy moving air that feels good. The blades are precision balanced to provide quiet operation and extend overall life of fan. There is no buzzing, humming or rattling as we have experienced with some other fans. The fan comes with a wood plenum you can use or build your own. There is a 7/16 adhesive-backed sponge rubber mounting strip which totally isolates any vibration from the framing of the home. The weight of the fan on the strip is the only mounting needed.
The Dayton fans come with a popular decora style 2-speed switch and timer with trim plate. The switch should be mounted by an electrician on the wall near the fan by an electrician using commonly available "gem" boxes double ganged together. Timer and 2 speed switch available only in ivory or white. The timer is the best option for switching on and off. The timer also has a hold setting that will hold the fan on indefinitely. The good thing about the timer is that you won't have to get up in the middle of the night to shut it off if it gets too cold. Just set the timer to run from ½ hour up to12 hours. A thermostat to turn the fan on is not a good idea as it may turn on before you have prepared for it. Windows must be open, heating and air off, and no fires burning in the fire place.
The Dayton premium shutters are commercial quality and the heaviest metal shutters available. Felt strips on each louver provide quiet operation and better sealing when shut. The louvers are connected to open and close together smoothly. These shutters will not rattle or bang shut as we have experienced with some other shutters.

Jet Fan has been installing Dayton fans for over 20 years and has developed easy to understand instructions. Only if you order through Jet Fan will you get real world, hands on, tricks of the trade revealed by the people who install these for a living. Tap into over 20 years of experience with these exact fans for best results.
Jet Fan has three sizes of whole house fans, 24", 30" and 36" in different packages.